The château
Château des Cologny is one of the most remarkable historical properties in the Pays des Gex. The manor is located in Cessy, just 15 kilometers from the centre of Geneva.

The property dates back to the 16th century and the house was rebuilt in 1622. The first owner, the Mareschal family, passed it on by inheritance to the Pitegny family who sold it to the Cologny family at the beginning of the 16th century.

Consequently, the Château des Cologny was sold to Jean-François Payronnet, surgeon and provost of Gex, in the 18th century.

The fortified house, which has undergone major alterations over the centuries, still has a well with the coat of arms of the Livron family. A gate gives access to the inner courtyard. This portal, with a double entrance – a very small one surmounted by a beautiful brace and the other one in a basket handle, is covered by a four-sided roof. These entries, which date from the early 16th century, are quite rare in the Gex region.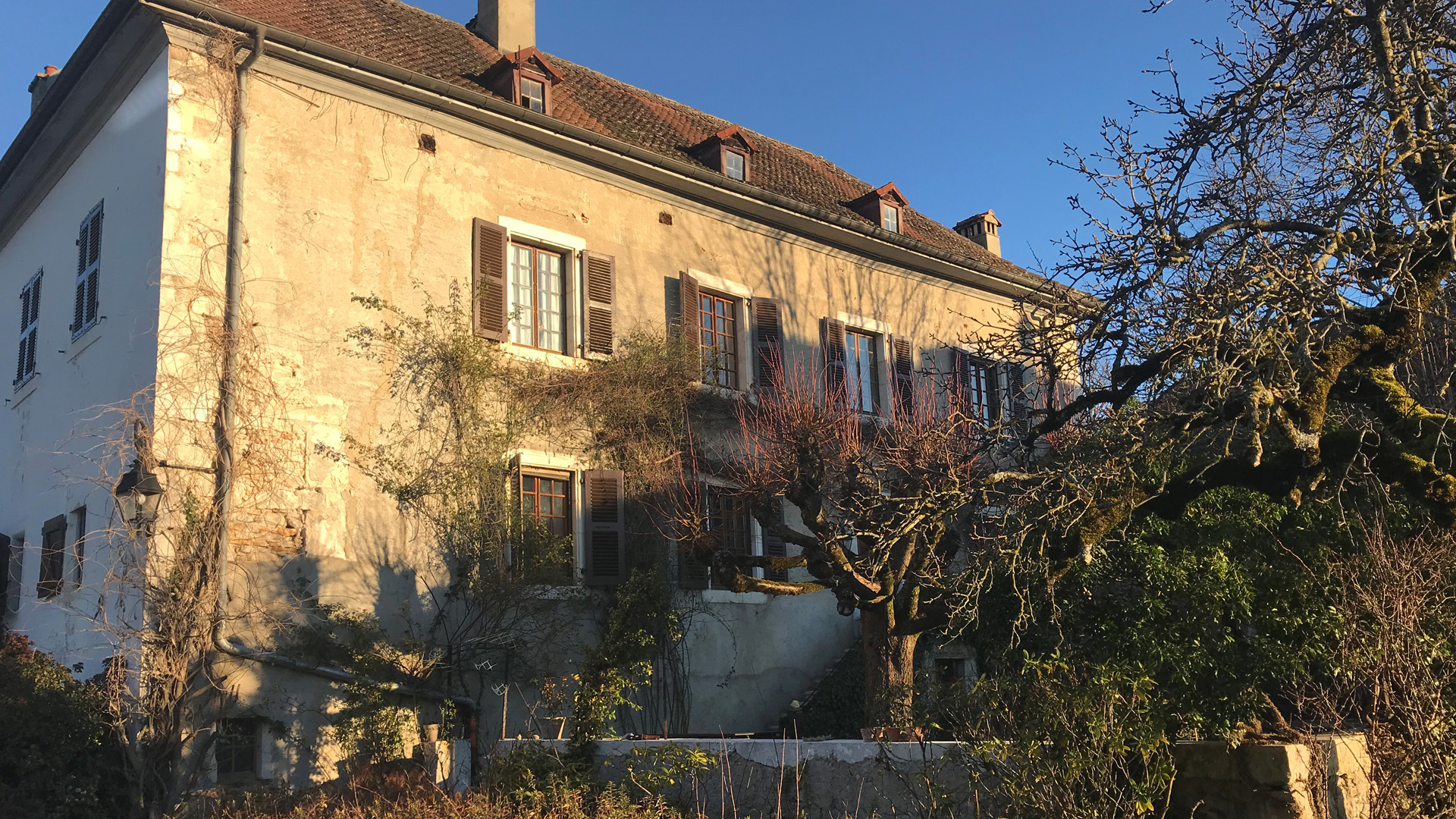 The garden
A cosy nest at the foot of the Jura, housing colors and scents throughout the four seasons. Tall linden trees shelter some 50 different varieties of camellias. Over 60 plants of roses interact with slim and tall cypresses, with summer pear trees and with a climbing grape. While a bright purple wisteria hugs the manor surrounded by osmanthus and birch trees. We promote biodiversity to provide a safe haven to birds, insects and other fauna from the region.
The restoration project
We're currently restoring the manor in accordance with the guidelines of Batiments de France. Our aim is to preserve heritage while updating some key features to improve the energy performance and therefore the footprint. The beams of the roof have been carefully treated, a ventilation and insulation systems were put in place. All the tiles were taken down, cleaned and put back in place. The façades of the building were cleaned all the way to the stones and then covered with natural lime, just like they used in the past.

In the future, we plan to restore the guesthouse, the courtyard, the well and, eventually, the bar. Support to the restoration project is possible through our association: contact us for more information